Tesco's online reputation has seemingly mirrored the share price falls of late as reports have surfaced that customers are taking to social media sites to criticise poor service.
Whether the shareholders will take to social media sites to criticise poor return on investment is as yet unknown!
Kaizo Advocacy Index, a biannual audit examination of online attitudes towards brands launched in 2007 found that Tesco had recorded the most negative online sentiment of the companies examined.
The study examined firms in the supermarket, camera, airline, breakfast cereal and computer sectors, creating a positive or negative percentage score to measure sentiment.
Kaizo looked at the first three pages of a Google web, news and blog search, the top twenty tweets and the top ten Facebook pages, discounting any pages owned by the brand and with the commonly held belief that between 30% and 40% of people say their purchasing behaviour is affected by what they see on social media – especially Facebook and Twitter, the news for Tesco could signal a change in direction or increased consumer engagement to win back the positive brand image.
Interestingly, in the latest Kaizo study Tesco, (at minus 17% on the Index) was the only supermarket to record a negative score. The brand had a neutral online reputation (0%) when the study was last completed in autumn 2011. By contrast, ASDA came out on top (40%) followed by Waitrose (35%), Sainsbury's (12%) and Morrisons (6%).
Rhodri Harries, managing director of Kaizo, said: 'This study reflects what a consumer actually sees when they search, as opposed to how much coverage there is out there, so it is a powerful reflector of likely impact of online and social coverage. Those brands that score well are those that combine creative campaigns with empathy with customers, and have a consistent dialogue through all earned media.'
Lessons for Business Small and Large
Tesco, just like any other business is ultimately held accountable by its customers and whilst a small business with a handful of customers may face a threat from consumer review websites as opposed to social media like Twitter and Facebook (the weapons of choice for the consumer en masse) the battle is just as hard for both.
However, with a bigger customer base, comes more gravity which can exert more pressure on the brand and as Tesco is learning, no business can escape poor customer service.
*Oct 2013 Update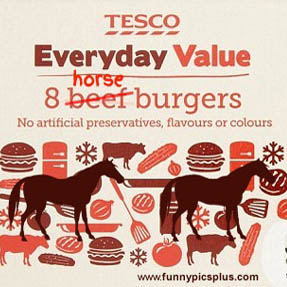 Wow, I guess all those who were criticising Tesco for poor customer service didnt see the Tesco Horsemeat Scandal following it but it just goes to show that when people are not happy, skeletons and whistleblowers tend to appear.
Given that certain products labelled as containing beef were found to contain undeclared or improperly declared horse meat – and as much as 100% of the meat content in some cases the issue is not just a brand and online reputation nightmare but an industry wide extinction level event as the issue of fraud and food safety wakes everyone up and you can bet it will take a long time for Tesco to be forgiven and then forgotten over this one.
According to the Guardian, the Tesco burgers and those at Burger King, Co-op and Aldi that also tested positive for horse DNA were all made by the ABP group in its Silvercrest factory, in the border area of Ireland. ABP – the initials derive from Anglo-Irish Beef Processors – is the leading processor of cattle in Europe. News that they are changing their name to AHP (the Anglo-Irish Horse Processors) to reflect their new preferred choice in meat are as yet unconfirmed…
Feeling the Weight of Negative Brand Image?
Edible is a Liverpool based Digital Marketing Consultancy specialising in Online Reputation Management (ORM), Search Engine Optimisation (SEO) and Digital Content Creation.