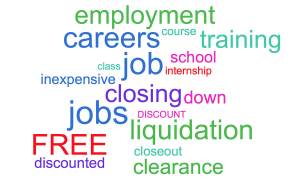 If you are paying for a Google Adwords Pay Per Click PPC marketing campaign, be it as a client of an PPC agency or DIY you need to consider your negative keywords to improve your return on investment and stop your budget being pis*ed down the drain.
Is your PPC Agency Helping or Hurting You?
If you ask your Pay Per Click PPC marketing consultant, agency, guru, expert or any other form of pay-per-click person who's services you are paying, 'what negative keywords are you using on my campaign', and they give you a dumb look, you have thrown money down the drain and you need to cut your losses and move on.
What are Negative Keywords?
Negative keywords are the keywords and phrases that you do not want search engine searchers using to associate with your products and services.
When you add negative keywords to your Google Adwords and other PPC campaigns your ads will not be served if those negative words are part of the user's search query. 
Not only does this benefit you by directly saving money on wasted clicks, it also improves the click through rate (CTR) of your keywords/ads, which helps improve your ad quality scores in Google, Yahoo, and MSN. 
In turn, improved quality scores can then help your bidding strategies and cost per click by allowing you to bid less than a competitor (who hasn't optimised their Adwords campaign) and in doing so maintain a high ad position on a search results page at a lower cost.
It is this simple concept that so many ppc marketers (i.e amateurs) fail to grasp and it's your money thats being wasted.
Negative Keywords Examples
If you sell 'german kitchens' and your target market is home owners looking for your main  target keyword of 'german kitchens' then you need to specify what negative keywords are used to limited when your Google ads show and you get charged for a click.
Let us consider the following search terms
Ex-display german kitchens – All well and good if you sell second hand or ex-display german kitchens but if you dont and you dont specify 'ex-display' as a negative keyword then you are throwing money away.
Cheap german kitchens – All well and good if you sell cheap, bottom end of the market german kitchens (i.e. flatpack for £2k but if you sell brands like Nobilia, Schuller, Pronorm and your starting point is about £10k and you dont specify 'cheap' as a negative keyword then you are throwing money away as you are attracting the wrong profile of customer. 
german kitchens Jobs – in this instance the searcher is clearly looking for employment, has no intent on buying your product and yet unless you specify this as a keyword, you guessed it, wasting money.
When your PPC Agency IS hurting you
Like I say, if you ask what negative keywords your so-called expert is using and they dont tell you, look puzzled or dont give you a keyword report then the reality is you have been wasting money on an inefficient Google Adwords campaign, throwing money away that could have been spent on the right words for the right target audience and you have paid someone the privilege to do this for you.
You wont believe the amount of ppc reviews there are online with the likes of Google Reviews, Trustpilot and the like, all lambasting their ppc agency and the common theme amongst all of the complaints is the following
The ppc agency ties you in to a contract
The ppc agency promises results and have a good sales talk but doesn't deliver
The ppc agency offers little or no transparency
The ppc agency does not know what is going on so you want to quit, but…
…the ppc agency reminds you about the contract and threatens debt recovery
The shocking truth of the matter is that not all ppc agencies that fit the above description are all fly by night companies less than 12 months old as some are huge corporates and you dont have to dig deep to find out which ones. 
As your Holistic PPC advertising partner, Edible Marketing create strategic pay per click advertising programs such as Google Adwords, tailored to your business, your budget and you individual key performance indicators.
You get high-value leads, increased sales, and lower costs per click, per lead, and per sale so stop throwing money away!