The Lessons in PR Disasters posts is a series of narratives that looks at real world high profile marketing communications (MarCom) events and here we look at the furor surrounding United Airlines recent PR nightmare.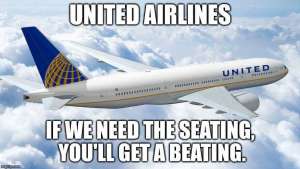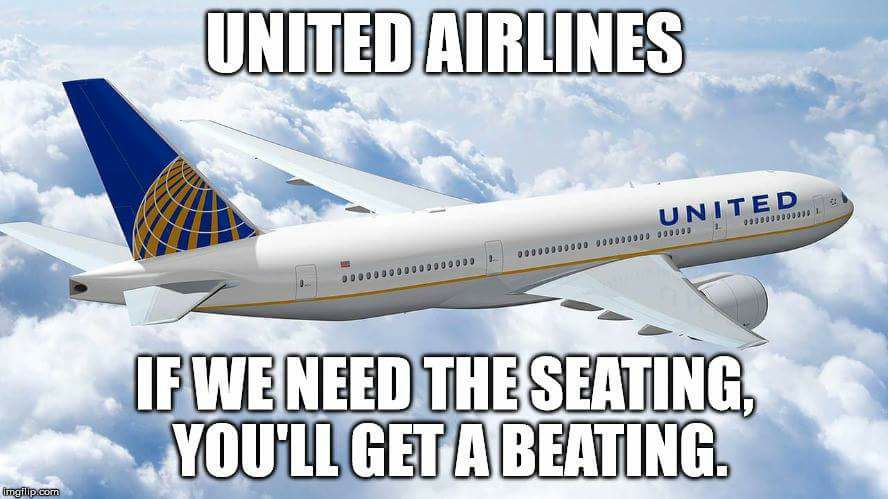 In an attempt to end United Airlines ongoing public relations disaster that began last month when security staff dragged doctor David Dao off a United flight, the airline has said it will increase the incentives on offer to customers  so they take later flights when planes are overbooked.
Previously, the maximum United Airlines staff would offer customers to be voluntarily bumped off flights was $1,000, but this was raised as part of 10-point plan publicly issued by United as it tried to end its image troubles.
Announcing the 10-point plan, United CEO Mr Munoz said: "Every customer deserves to be treated with the highest levels of service and the deepest sense of dignity and respect. However, actions speak louder than words and, we are taking concrete, meaningful action to make things right and ensure nothing like this ever happens again."
CHICAGO, April 27, 2017 – United Airlines (UAL) today announced 10 substantial changes to how it flies, serves and respects its customers. The changes are the result of United's thorough examination of its policies and procedures, and commitment to take action, in the wake of the forced removal of a customer aboard United Express Flight 3411 on April 9.
United commits to:
Limit use of law enforcement to safety and security issues only.
Not require customers seated on the plane to give up their seat involuntarily unless safety or security is at risk.
Increase customer compensation incentives for voluntary denied boarding up to

$10,000

.
Establish a customer solutions team to provide agents with creative solutions such as using nearby airports, other airlines or ground transportations to get customers to their final destination.
Ensure crews are booked onto a flight at least 60 minutes prior to departure.
Provide employees with additional annual training.
Create an automated system for soliciting volunteers to change travel plans.
Reduce the amount of overbooking.
Empower employees to resolve customer service issues in the moment.
Eliminate the red tape on permanently lost bags by adopting a "no questions asked" policy on lost luggage.
While several of these policies are effective immediately, others will be rolled out through the remainder of the year.
Lessons in PR Disasters – Analysis of United's 10 Point Plan 
In looking at what Lessons in PR Disasters can be taken from this, the narrative that United needed to get over was that whilst it is industry practice to bump passengers United made a one off mistake and that it is putting measures in place to ensure it won't happen again as like other PR Disasters, being forgiven leads to the issue being forgotten (for the most part).
Whilst most airlines are in the same boat as United in that they have to bump customers all the time they have the foresight to a) not let passengers board before bumping them as doing so loses you control,  and b) that you then don't drag a passenger off bloodied and unconscious which is subsequently being filmed by other passengers.
The 10 point plan above goes a long way to putting the wrong right and whilst the initial reaction from United CEO was appalling in trying to deflect blame United learned their lesson quickly.
Whether United's lesson learning is going to prove costly is not up for debate as increasing the costs you incur by up to a factor of 10 is not going to make you profit, the question is how much profit will the 10 point plan let United retain that it would have otherwise lost?
A run on United?
Consumers are like sharks and if they smell blood and a bargain they will take it and now that United have drawn a $10,000 (per bumping event) line in the sand, I would expect many instances on social media to crop up of when passengers didn't get the $10,000 and whilst some customers wont have compelling reasons there are bound to be more instances of passengers getting bumped, not getting the full compensation and then the public siding with their reasons.
Unless United gate workers are going to evaluate each case on its merits you can expect people to make a run on this and exploit the increased compensation level.
There are publicly available websites where you can easily see which flights are likely to be overbooked but tickets are still being sold for and United is one of the easiest to see it on which in turn may well actually compound the problem with people deliberately booking flights for the compensation potential and knowing the airline is desperate to avoid further controversy then holding out for the maximum award.
What should United have done
When it comes to Lessons in PR Disasters, hindsight is easy and United needed to react to restore consumer confidence amid a dip in passenger numbers and a run on its share price before it got worse but the most effective thing it could have done would have been to quickly and publicly settle the case with Dr Dao out of court, and be seen to put the original issue to rest to a standard that the public would be confident with, without the potential for the whole thing to inflame further (if it went to court) as daily media coverage and dissection of the proceedings will only undermine the 10 point resolution plan and potentially rally public anger further and keep the original incident in the limelight.
If Dr Dao's claim is settled and the 10 point plan doesnt encourage more instances of bumping, whilst United went over and above the industry standard of compensation may prove costly but it does make inroads to addressing the original issue and being seen to prevent it from happening again and who knows maybe United have played a shrewd move in putting the compensaton limit to 10 times the industry standard as it forces more people to take more United flights with the compensation being given in flight vouchers.
Edible is a UK focused SEO, Marketing and Reputation Management Consultancy working with a broad base of business to business and business to consumer clients across many industries such as retail, hospitality, manufacturing, research and financial services.
The Lessons in PR Disasters posts is a series of narratives that looks at real world high profile marketing communications (MarCom) events and case studies from the past and present to learn from both the triumphs and the mistakes, in order to take those lessons and integrate them into the marketing communications for small to medium sized businesses today.
For SEO Liverpool, SEO London or other Geographic SEO services further afield, PPC or online reputation management services, simply get in touch for a non obligation evaluation of your website and its potential.