Google Adwords & PPC Marketing
This post is ideal for those considsering a new Google PPC Adwords campaign for their website or are wishing to improve their existing PPC Marketing efforts.
It covers beginners topics to explain what PPC is and why to use Google plus how to get the best from your campaign, whether you choose to employ someone or DIY.
This is basically everything a beginner wanted to know about Google PPC Adwords Marketing, but was perhaps affraid to ask and ends with a Top Ten Tips for better Google PPC Adwords marketing!
Topics Covered / Questions Answered
What is Google PPC Adwords
Why Use Google PPC Adwords
What are the alternatives to Google PPC Adwords
Agency or Self Managed Google PPC Adwords
Top Ten Tips for better Google PPC Adwords
What is Google PPC Adwords
Google PPC or Google Adwords as its officially known as is a form of internet markeing that lets you crate adverts which only incur a fee (to you the advertiser) when an advert to your website is clicked.
PPC therefore refers to the term describing the format in so much as you only 'Pay-Per-Click'
SEO or PPC
There are three key differences when considering and/or distinguishing between SEO and PPC.
The first is that the PPC/pay-per-click ads appear at the top of the page, above all of the organic listings influenced by SEO. As such, Google Adwords are the first thing your target audience will see.
The second however is that traffic from organic via SEO is free, whereas traffic from PPC has a cost for each click.
Thirdly, PPC has an immediate effect. SEO is often a mid to long term strategy and with very competitive keywords in very competitive markets this can often be more 'long' than 'medium' term, depending on the capabiltie of your seo consultant and your budget.
However, in most cases, SEO and PPC will often work best when integrated and strategically aligned.
*The image below shows the difference between PPC Ads and SEO rankings, as they appear on Google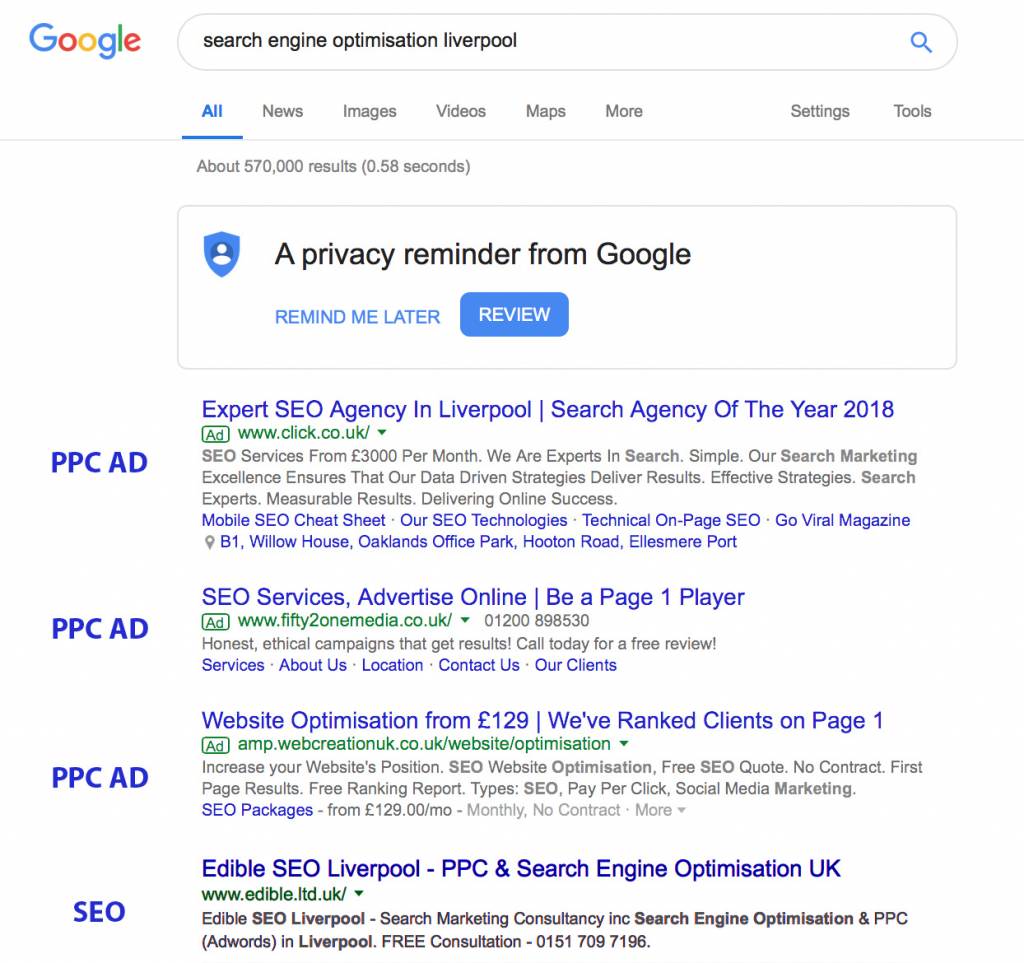 Why use Google Adwords & PPC Marketing?
It may seem an obvious question to those already familiar with PPC marketing but for those of you for whom it is new or unfamiliar why you should use Google Adwords comes down to whether you want to increase any of the following;
Do you want to increase traffic to your website?
Do you want more enquries to your business?
Do you want more sales leads or even better, actual sales?
Do you want to increase these things now and not have to wait several months for SEO?
If the answer to the above questions then PPC advertising could be a very worthwhile solution for you, if done correctly. 
Some people ask marketing consultants as to why they should pay to appear on Google when they can get their website to show up for free?
The answer is that in reality, it's not as easy to drive "free and organic traffic" to your website as you think, hence there is a globally industry to support the practice and no disrespect but most business owners are not competent enough content writers, marketing experts or technically internet savvy enough to make much of a difference.
Quality and Relevance is Rewarded, Mediocrity is Ignored
For almost every genre imaginable to humankind there are hundreds locally, thousands nationally and even tens of millions of websites globally, that create and serve content to that given genre and Google's algorithms are designed to only reward the highest-quality sites with organic rankings.
Near 2 billion websites 
When you consider that at this moment in time there is just short of 2 billion websites and a new one is added every second, it takes a lot to stand out from the crowd. Worse still, that crowd is growing by thousands per day.
Granted as a small or even micro business operating locally you simply wont ever be competing with the entire internet but consider this, there are only 10 organic places on Google's first page and 75% of your target audience will never go past the first 10 results. 
I guarantee that even for any small or micro business that if you do a Google search using your best fit keyword, that you have literally a one in a billion chance of Google Results Pages not having more than enough competitors to take you to the at least the 4th page of the Google results.
Moreover, for most new websites launched in even mildly competitive industries, there will be a plethora of directories, recruitment companies and forums (which all have high relevance to Google) that occupy the search results. Whilst these sites may not be direct competition to you, they are still competition when it comes to your business getting any worthwhile position in the Google Search results.
Ask yourself this, when was the last time you looked beyond the 3rd page of Google?
For most its never.
What are the alternatives to Google PPC Adwords?
As with any form of marketing your sole consideration shouldn't just be focused on cost as cheap PPC, just like cheap SEO, comes with some very big downsides attached. 
With cheap SEO you risk your site being hit hard by bad search marketing practices and with pay-per-click, such as Google Adwords it is no different and it's not just the inexperienced newcomers to PPC marketing that you need to worry about as just search online for "Yell PPC Reviews" and see some pretty explicit reviews of the same pay-per-click marketing mistakes you would expect of a novice, but being tabled at a very big name in digital marketing. 
Back to the point in question, so what are the alternative to using Google Adwords?
Yahoo and Bing offer a like for like search marketing set up as Google and whilst your cost per click (CPC) maybe lower with a like for like ppc campaign with Bing, it is crucial to remember that Google accounts for far more search traffic than Bing and Yahoo. 
In other worlds, with Google accounting for 89% of the UK search engine market, to Bing's 6.76% and Yahoo's 2.25% as at 2018, it goes without saying that whilst in other markets around the globe there are better suited search engines, in the UK Google runs supreme and offers 10 times the market share of Yahoo and Bing combined. 
On the flip side you can argue that by solely focusing on Google you are missing out on 10% of the search market and with Bing and Yahoo generally offering better value for money, by choosing Bing and Yahoo in addition to Google pay-per-click, you will maximise your exposure. 
As such, Yahoo and Bing are not really direct alternatives to Google at all and perhaps only Social Media pay-per-click adverts on the likes of Facebook can offer a viable alternative to Adwords, for certain (shall we shall younger) segments of consumers.
Agency or Self Managed Google PPC Adwords
SEO
If your website doesn't feature in the search engine results your business is invisible
Search Engine Optimization
If you don't market your website and make your site visible to the target audience you may as well stay off the internet and bury your hand in the sand
ORM
Digital PR and Reputation Management
Online Reputation Management
Digital PR and Online Reputation Management to repair or reinforce your brand
PPC - Pay Per Click
Google, Facebook etc
PPC - Pay Per Click
PPC campaign management for small or large budgets for maximum ROI
Online Marketing
Content Creation to Content Management
Make your Brand Stand Out
Copy, Photography & Grpahics
Technical, National, International and Local SEO
Holistic SEO, Search Engine Optimisation for long term results
Consultative sales and marketing approach
Affordable SEO Services that pays for itself and maximises return on investment
User driven content for maximum lead conversion
Appropriate Social Marketing strategies for your target market
Online Reputation Management to repair or reinforce your brand
Ongoing support and In-house levels of service and accountability