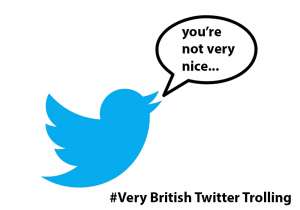 Is online reputation management dead? Negative tweets can prove beneficial to a brand by driving "a lot of interest", according to Simon Wallis, the marketing director of Domino's Pizza.
Although it should be pointed out that Domino's Marketing Director wasn't referring to any and all types of negative tweets, Wallis was speaking in reference to Domino's sponsorship of 'Splash', Tom Daley's much-derided ITV show, which aired in January.
The show suffered a Twitter backlash with tweets attacking ITV for "plumbing new depths" and "scraping the barrel" in broadcasting the show, which was fronted by the 18-year-old Olympic diver Daley, who served as a diving mentor to celebrities.
But Wallis argued the coverage was positive for Domino's: "You would rather have people talking about it than not. Twitter comments help drive a lot of interest in the brand."
Wallis said the negative tweets "didn't reflect badly on Domino's Pizza" as being a sponsor, "it was detached" from the negative comments around the show.
It is understood that Domino's is now looking to sponsor the next series of 'Splash'.
Wallis pointed to the viewing figures of the show, which were widely seen as being successful.
An average of 5.6 million viewers turned in to see former ski-jumper Eddie "The Eagle" Edwards win the final show.
This  above article was first published on marketingmagazine.co.uk and here is some perspective.
Perhaps Simon Wallis, the marketing director of Domino's Pizza forgets how damaging 'negative tweets' can be when in 2009, several months before his appointment, a Domino's franchise in North Carolina, in the United States was forced to close after a YouTube prank went global.
The video, showing two Domino's Pizza employees being filmed putting food up their nose's and putting nasal mucus on food, had been viewed more than a million times on YouTube just hours after it went online. References to the video were in 5 of the 12 results on the first page of Google search for "Dominos," and damaging and negative discussions about Domino's had spread throughout Twitter.
Domino's spokesman, Tim McIntyre said at the time that "We got blindsided by two idiots with a video camera and an awful idea. Even people who've been with us as loyal customers for 10, 15, 20 years, people are second-guessing their relationship with Domino's, and that's not fair."
I very much doubt the Domino's board took the view of "no such thing as bad press" at the time?
Proportionality
Granted being a Sponsor of ITV's woeful show Splash isn't in the same league as the social media fallout from the North Carolina franchise YouTube video but the key here is proportionality in that the degree of perceived negativity is the critical concern.
Just as John Terry's, Tiger Woods and Lance Armstrong's sponsors didn't stick by them when they were in for some fierce criticism, for fear of negative association, Splash isn't a show about a sensitive or political subject and is probably only guilty of polarising the audience in a 'Love it or Hate it' manner much as Marmite is famed for capitalising on via its own marketing.
Splash is just a crap show plain and simple, and there isn't any fallout for Domino's so long as the show continues as is, and as far as negativity is concerned, I think unless Tom Daley starts murdering Z-list celebs and contestants, their brand reputation is safe.
Twitter backlashes
However to provide some additional context of negative tweets and the ever growing popularity of the Twitter Backlash you only need to look at the 2014 Miss America competition and consider whether the 'negative tweets' below were seen as a good thing by Miss New York Nina Davuluri? That they drove interest in the Miss World competition is in no doubt but I dont think that Nina Davuluri would be expected to see any positives from what can only be described as a series of vile, angry, racist messages in becoming the first Indian-American winner of Miss America.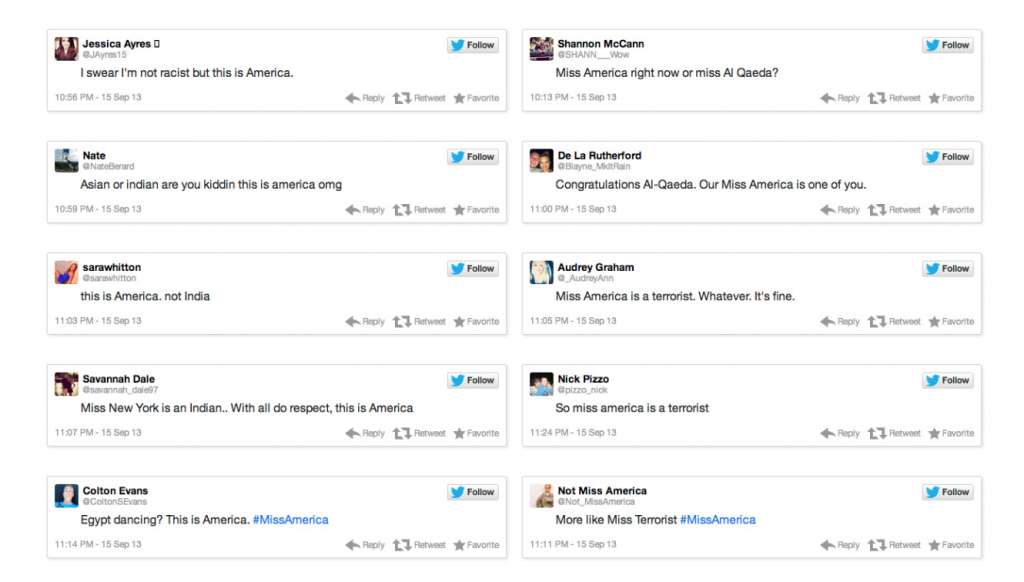 Online Reputation not dead
Sadly for those in the grip of a negative tweet frenzy and full on backlash, you cannot escape a twitter backlash just by leaving twitter.
As many celebrities have done in trying to get away from relentless trolling, the pings and direct messages via Twitter may stop but in terms of negative brand mentions the backlash will just continue on any and every other platform and forum from Yelp, Google Reviews, Facebook to blogger sites and the like so putting the proverbial head in the sand is not the solution.
For Online Reputation advice or SEO, be it International, National or Local such as  SEO Liverpool, simply get in touch for a non obligation evaluation of your website and its potential.